5-6t/h Wood Pellet Plant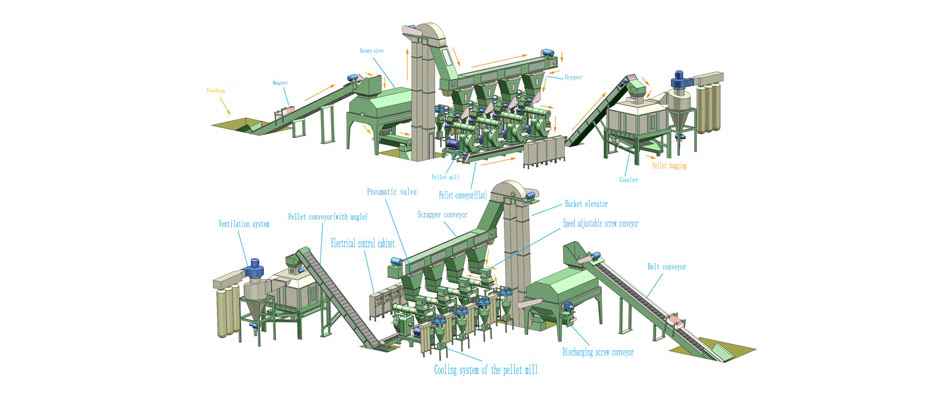 The Whole Processing Process Of 5-6t/h Wood Pellet Plant
Chipping System → Drying System → Crushing System → Pelleting System → Cooling System → Screening System → Packing System
❶ Chipping System
Select wood chipper according to the capacity and size of logs, there are drum chipper and disk chipper to be chose.
This system is mainly used to chip the log with the diameter less than 50cm into the spile with the diameter less than 5mm, to reduce reduce the difficulty of drying and lower crush power.
❷ Drying System
Calculate the amount of evaporation according to the inlet and outlet water content of materials, and select the drum diameter and stove models.
In most wood pellet producion line, moisture content with 12-16% is the most suitable.
❸ Crushing System
Crush your raw materials into appropriate small pieces with crushing equipment, the crushed sawdust with the size less than 8mm, which is convenient for the processing of pellet mills.
Yuxi Machine uses the discharging and dedusting method by combination of positive and negative pressure, reduce fan wear and dust, which is the most advanced.
❹ Pelleting System
Process the sawdust into the pellets with the diameter of 6mm, 8mm, 10mm and 12mm, as the core part in the whole wood pellet production line.
Yuxi Machine uses the most advanced vertical ring die wood pellet mill, with minimum energy consumption, minimum wear, maximum pressure.
❺ Cooling System
The cooler cools the pellets with the temperature of 70-90 degrees to room temperature ± 5 degrees, and then pack them.
This system adopts countercurrent air-cooled, with advantages of good dedusting effect and short cooling time.
❻ Screening System
The screening system is mainly used fot vibration grading sieve, to separate particles of the finished product standards, in order to achieve the packaging requirements.
❼ Packing System
Packing is the last one procedure of this pellet producion line. Both of bulk bag and small bag are available according to customers' demand.
Complete wood pellet plant or pellet line is technically designed for the users who need a large scale and automatic pellets plant for commercial and industrial purposes. Feel free to send us an inquiry to get detailed information about Yuxi pellet plant.